Making of …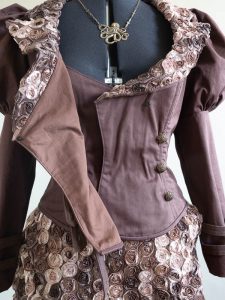 The jacket is made with the Simplicity pattern 8114. I made a mockup for this and after that several adjustments to the pattern: I reduced the shoulder width severely and tightened the sleeves a lot.
I tried to avoid the zipper on the inner closure and tested different methods just to come back to the zipper as it was described on the pattern. The outer closure is a mixture of both versions indicated on the pattern und is shifted a bit since I wanted to place the buttons exactly on top of the seam.
I decided to put just two tabs on the sleeves since it looks more harmonious to me that way.
All in all I am very pleased with my version of that jacket.
For the bustle I used the pattern M6911 from McCall's Costumes once more (see Alterable Steampunk Combination).
This time without the bulky netting fabric as stuffing, since the ornate rose-embroidered fabric alone had enough fullness and I thought it unnecessary to add any more filling. So the skirt was sewn really quickly ;-)
I did not make a new long skirt for this since the skirt from the Alterable Steampunk Combination fits perfectly here. It is even made out of the same fabric as the tabs von the jacket.
Completed: 2019