Green Fantasy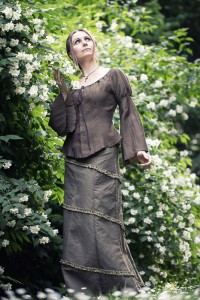 These two pieces were made independently of each other and I did not plan to wear them as one outfit.
The blouse is an addition to my costumes for medieval fairs.
It has beautiful wide sleeves and the neckline can be regulated with a thin cord so that it can be worn off-the-shoulders. It also goes well with my stunning leather corset (see Victoria Prismall).
And I always wanted to have such a skirt and that also for daily use.
Since both pieces combined look nice, too, I am presenting them here as one :-)
Photos: Eric Aisling (2018)
Jewellery: Sandra
* back *