10 Years Ago: Machina Nostalgica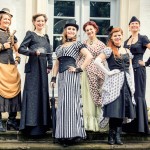 Ten years ago I was allowed to be part of the Machina Nostalgica, the first German steampunk exhibition in the Kreismuseum Prinzeßhof in Itzehoe!
I got to meet so many wonderful, creative and talented people and host my first opening weekend fashion show.
At this point a big thank you again to my great, beautiful models Raja, Jasmin, Josepha, Lea and Swenja, and of course also to the hairdresser Marlies and for the invisible but indispensable help in the background to my dear friend Sandra!
The small film contribution to the opening weekend can still be found at: Steampunk Exhibition Machina Nostalgica.
It was a wonderful time and I like to think back on it often :-)
Reminiscing… yours