Flamenco Shoe and Fan Pouch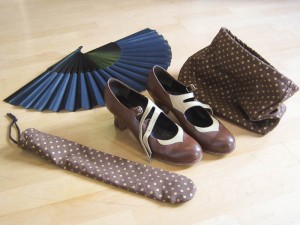 This useful Shoe Pouch is perfect for carrying dancing shoes from here to there. The good shoes are not rubbing on each other in transport because of the single compartments, one pocket for each shoe. And while I was on it, I made another pouch with the same fabric for a Flamenco fan.
Both pouches have a lining with a firmer cotton fabric. The outer fabric is the rest left over from making the Flamenco Goldenbrown skirt.
I did most of the cutting and sewing without pattern or markings. I just wanted it to be finished quickly ;-)
Completed: 2016
Status: in my Klamottenkiste and I use it a lot :-)
* back *