Making of …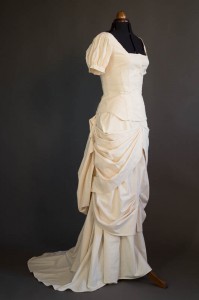 Since this dress was ment to be something extraordinary, I tried extra hard to make it perfect. At first I sewed the whole dress out of cheap cotton fabric from IKEA to get the fitting right and to work out how to pin up the train.
The patterns for the skirts are the Truly Victorian patterns TV225 – 1878 Fantail Skirt and TV326 – 1880 Hermione Overskirt. The overskirt is so perfect, I did not need to change anything. I did not change anything on the skirt pattern itself either, but I added a ribbon at the gathering on the outside and three little loops on the train, so that I could pin the skirt up to floor length without looking in any way clumsy. It was not easy to find the right spots on the train to do so ;-)
The pattern for the bodice is also from Truly Victorian: TV420 – 1879 Cuirass Bodice with Evening Options. I had to try a few more things with this one until I was satisfied. I sewed three test pieces altogether. The first one was too large and I did not manage to fit it properly. Next try with one size smaller was a lot better but needed more allowance at the front. I changed the sleeves a bit, too. On the test piece they are like in the original pattern, on the real dress they are smaller and shorter.
The test dress is sewn like a real piece of clothing and it could be worn like that. But it does not have spiral boning or any interlining in the bodice and it is absolutely unornamented ;-)
Completed: 2017
The reed green taffeta for the dress was lying around for many years, I had 6 metres, so it was for something big right from the start ;-) The other dark rose fabric was lying a bit longer, too. Sadly I had only 4 metres of that one. So I was thinking about how to use the selected sewing patterns with these fabics. It was out of the question for me to use the dark fabric for the upper part and the light one for the lower part, so there were not many variations left. The green taffeta is indeed very beautiful, but too plain for a victorian ball gown. So I had to think about the right amount of trimming. I came across these beautiful rose embroideries and ordered quite a buch of them ;-)
I sewed on the rose application by hand so that it lies evenly on the fabric without showing any stitches on the outside. In the pictures you can see how it looked from the inside after stitching on the application (and adding the spiral boning in its casing).
The complete golden lace trim on the skirts is also sewn on by hand. This has the same reason as before: not showing any visible stitches on the outside.
I had some problems with the stiff fabric of the skirt. The skirt was suddenly too short! Although the test piece had an optimal length. Fortunately I was forced to add some length. So I invested three days to build these wonderful ruffles out of remains of the green taffeta, one layer of black chiffon and the golden lace trim and to sew it onto the skirt. Now the train is much more stable and keeps its form much better with this ruffle trim :-)
Completed: 2017