Airship Pirate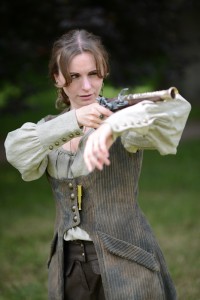 The idea for this costume took some time to turn into something concrete.
It should have a lond vest in any case and these beautiful wide pirate sleeves and trousers at knee-length.
So it almost became a classic pirate outfit, until I decided which pattern to use for the vest.
The pirate outfit turned into a Steampunk outfit just with the choice of fabric and the choice of this much loved and often used Steampunk-pattern.
The Emerald Gate Earrings from Sandra and a tiny little spy-glass on a chain around the neck completes the Outfit.
…but actually there should have been a tricorn too ;-)
Photos: Earthling (2015)
Jewellery: Sandra
* back *