Making of …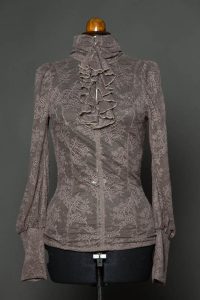 The pattern for the skirt is remotely based on a pattern from an old Burda. The asymmetry, the corset part and the lacing on the side were not included there. I sewed several mockups until I was happy with the pattern.
The corset part is made of very thin, soft leather, underlaid with two layers of firm cotton and kept in shape with spiral boning.
The sides should create a contrast to the leather, so I decided on a lightly falling, fluttering fabric that comes very close to the petticoat in terms of color. Two layers of the fabric are processed on both sides, cut in different directions to the threadline. This creates a somewhat loose, almost messy picture, which in my opinion goes perfectly with the petticoat.
Then came the waistcoat. The pattern I started with was once again the coat of pattern 2172 by Simplicity.
My first focus was to ensure that the petticoat is not covered too much and that a little bit of the skirt is still visible. I almost kept the front length and the slope to the short back became more extreme with each test – and better!
Then I concentrated on the upper back and the belts, turning on the Final Fantasy game over and over again and analyzing exactly how it looks on the costumes of Lightning. With these details I wanted to stick to this model as closely as possible.
After I had constructed a pattern that met my expectations, I was faced with the next problem: How do I sew this neatly out of leather now? I decided to sew the seams here in a similar way to a corset and worked my way from the center back to the front and put the pieces together.
In addition to the belts, the waistcoat has snaps so that it closes cleanly at the front.
I think I managed to find a balance between an exact copy of the Lightning outfit and my very own design.
In the end I wanted to sew my own blouse (and not the one I bought, which you can see in the pictures of the first tests). I also had a pattern from Burda Style (12/2014) in my head that I always wanted to sew. The test piece turned out so good that I finished it as an independent work: The Turtleneck Shirt with Bishop Sleeves.
The beautiful stretch lace fabric had long been ready to become a part of this costume. But with the lace fabric, the front would have been very see-through and too plain compared to the rest of the costume had I not made further changes to the pattern. I wanted the blouse a little more playful and at the same time a little less transparent and use flounces for that. The blouse now has a deep neckline and is closed with snaps only on the turtleneck itself. This makes putting it on a lot easier! And even for this change I sewed test pieces ;-)
In the end I was surprised how good this blouse turned out! I have rarely been so satisfied with one of my works ;-)
Completed: 2020