Steampunk Pixie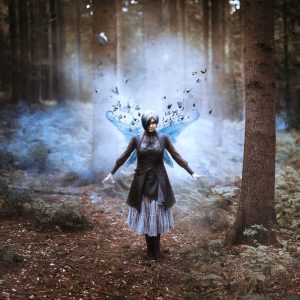 The idea for this costume grew piece by piece. It all started with a store-bought petticoat. I fell so in love with it, but I didn't have any combination options. The color and style was something that was unfortunately still missing in my closet. So I just had to sew something suitable if I ever wanted to wear it ;-)
My first consideration was how I can make sure that the petticoat can still be seen clearly, but that the completely transparent part at the top is covered. Furthermore I had in mind that I wanted to combine this with leather. This gave rise to the idea for the asymmetrical skirt :-)
Actually that would have been enough because I now had something suitable for my new petticoat.
But then the fascination for Final Fantasy outfits got in the way ;-)
Ever since I've been playing these games (always – and all of them!) I've been attracted to its fashion, which for me makes up a large part of the magic of the ever-changing worlds.
A very special outfit from "Lightning Returns" reminded me of a pattern that I had already used and with that the urge came after so many years to finally sew a Final Fantasy outfit!
However, I never intended to turn it into a Lightning Cosplay. With one look at my skirt, which was half-finished at the time, it was clear to me: This will become part of the costume!
Some details are exactly like Lightning's outfit, others are changed to my liking to match my own costume.
Finally the blouse was added. The fabric was there from the start because it went so well with the petticoat and I almost had used it in the skirt ;-)
When I finished the costume, on the one hand I was very happy with the result, but on the other hand I had the feeling that something was still missing.
With the opening in the back of the vest and a steampunk song, the idea came up: That's it! Wings would fit perfectly!
This not only gave the costume its name, but also defined my new challenge: to build wings!
How I approached this task is described under Pixie Wings ;-)
Photos: Marlena Wels (2022)
Jewellery: Sandra
* back *