Shiny Red Dress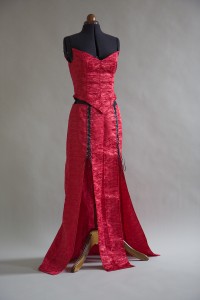 This three part fantasy dress is made out of a bright red shiny pattern-teffeta. The top is corselet-like cut with black lacing on the back and black lace straps.
There are two different matching skirts. The first one consists of two plain ankle-length rectangles whith are bound together with black lacings on both sides.
The second skirt has two lacings at the front down to the knees and a little train.
* back *