Elegant Hat with Feathers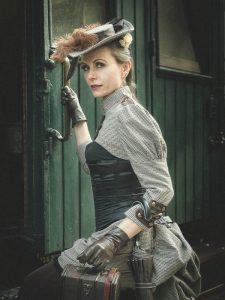 For the alterable Steampunk Combination I wanted to make different hats. This hat was made to go with the long skirt version and had to be very elegant.
I found the wonderful pattern B6397 from Butterick for this and made the version D almost without any changes.
To hold the hat in place with the lowered brim without wiggling or slipping I sewed in weft clips which are covered by the flower decoration under the brim. The hat can be pinned easily to the hairstyle with these clips.
Completed: 2018
Status: in my Klamottenkiste and I wore it at the Anno1900 Steampunk Convention 2018 in Luxembourg for the first time :-)
Photos: Eric Aisling (2018)
Earrings: Sandra
* back *