Summer Cameo Choker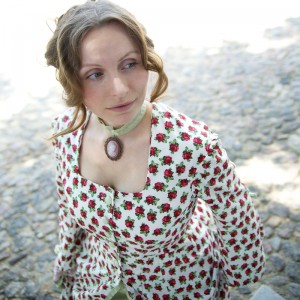 This sweet neckband with its pink cameo is the matching necklace for the Butterfly Cameo Earrings.
The cameo is attached to an embroidered neckband, that is closed on the back with a button covered with the same fabric.
This choker is made to wear with the Summer Rose polonaise.
Completed: 2013
Status: it was worn for the first time by Swenja at my fashion show at the Machina Nostalgica
Photos: Gabi (2013)
Earrings: Sandra
Hair: Marlies
* back *